Home |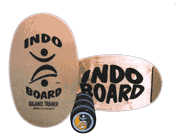 The Crew at boarding.net were lucky enough to receive The Indo Board Balance Trainer about a month ago, and we are stoked to have it. It makes for a great break away from the computer. Its also pretty fun to see the boss take a header and spill soda all over himself...
The indo board is an awesome trainer to have around, its easy to get wired and works the muscles like you were carving up your neighbors driveway.
Its fun and helps keeps those boarding skills fine tuned even when the surf is flat, the snow has melted and the pavement is wet.
Check out who rides the indo board >>
WHAT IS AN INDO BOARD? The Indo Board is a fun, innovative fitness tool that strengthens most major muscle groups, while at the same time, improving balance and developing core strength
History: Life-long surfer, Hunter Joslin, developed the Indo Board during a 20 year span. Originally designed to train surfers out of the water, Joslin quickly discovered from his growing cadre of loyal Indo Board fans that the apparatus was much more than a surfing simulator. Users reported increased leg strength and core fitness, as well as flexibility while experiencing a high degree of entertainment when using the Board. In 1998, Joslin decided to market the Board commercially, developing a web site and distribution channel and taking the fitness tool to surf and fitness oriented trade shows.
Price: The Indo Board retails at $99.95 for the clear finish and $109.95 for the color graphic boards.
Distribution: Indo Boards are available at selected specialty retailers nationwide as well as at www.indoboard.com
Check out who rides the indo board >>