Home |

Many people think of flat land or tidal pools when you mention skimming. Todays skimboarder attacks the big shorepound and rides it in with grace. The moves one can pull on a skimboard are a blend of many other board sports, including wave riding like surfing, shove-its and varials like skateboarding and high-flying aerials like windsurfing. In fact, skimmers were photographed puposely catching air earlier than surfers.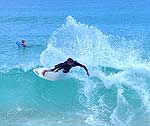 Kyle Olson . pic - Gretchen Cardoso
Competitions are held world-wide with corporate sponsors supporting the sport. Prize purses have reached $10,000 and are sure to rise with the sports growth. Hot spots for wave skimming are Portugal, Brazil, Japan, Chile, Cabo San Lucas - Mexico and of course the USA. Both of the Florida coasts are packed with skimmers, Laguna Beach, CA is known as the birthplace of modern day skimming with most of the worlds best residing there and Hawaii where skimming is thought to be evolved from. The earliest photograph of skimboarding dates back to 1919 at Waikiki Beach. Many Hawaiian's believe it goes back hundreds of years before that, using a Paipo Board which is similar to a modern day bodyboard.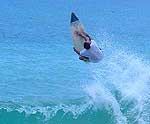 Micah McCarty . pic - Gretchen Cardoso

If you are into board sports and have not tried it yet you are missing out. Boards are hand made, similar to surfboards, and are available around the world in surf shops or on the net. They range from $50 to $350. The inexpensive boards are ok to learn the basics on but lose their appeal soon after. It's best to start off with a mid-level or above skimboard as they are just as easy to learn on and when you are ready you can ride the waves with it.

For more information and exciting skimboarding photos please check out www.skimhawaii.com


OTHER @ www.boarding.comhttp://www.boarding.com
The Boarding Media Network