Home |

By Press Release:

Slingshot announces the NEW 2007 LINK. - August 3, 2006 - Slingshot HQ, Stevenson, WA, USA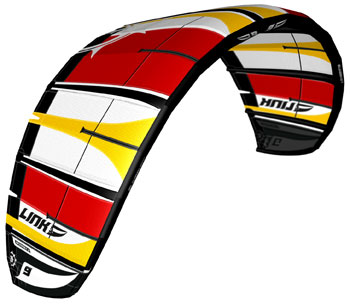 Fly it 4 line. Fly it 5 line. Feel the difference!

KEY PERFORMANCE CHARACTERISTICS:
. A choice of either 4 line bridled or traditional 5 line platforms - you choose the platform
. Ride the LINK 4 line bridled for simplicity, de-power, and 'Bow Style' performance
. Ride the LINK traditional 5 line for 5th line safety, 5th line re-launch, and 'Traditional C' high end performance

OVERVIEW:
. The only TRUE hybrid kite on the market.
. You choose 4 or 5 line. The Slingshot LINK excels equally on both platforms!
. Platform conversion kits come stock in all LINK packages.
. The Slingshot LINK offers the best attributes of safety, incredible range and de-power of "flat" kites with the proven high-end performance of "C" kites.
. The NEW 2007 LINK sets the new benchmark for an "all around" high performance freeride kite.
Logosz, along with the entire R&D team, have combine the best qualities of a "flat" kite and a traditional "C" kite to create a new and revolutionary hybrid style kite that performs equally as well 4 or 5 line. Slingshot introduces the true hybrid. Allowing the rider to chose their preferred platform, 4 or 5 line, brings new meaning to the words versatility and convenience. Slingshot answers the growing need for an all-around kite that fits everyone's requirements. The NEW 2007 Slingshot LINK defines 'best of class' performance, convenience and safety in the all around category. This IS the kite for every freerider.

FEATURES:
. A choice of either 4 or 5 line platforms.
. Newly redesigned 2007 Powerstroke Bar (Active Stopper Ball equipped) OR Newly redesigned 2007 Profire Bar (Active Stopper Ball equipped)
. Platform conversion kits - 4 line bridled or the traditional 5 line
. NEW swept leading edge design
. Yellow Power Ball
. Simple floating bridle system (4 line)
. Pitchfork bridle (5 line)
. Slingshot's NEW Direct Drive steering - no pulleys on the bar
. Slingshot Splitstrut "bolt on" technology
. Slingshot's patented Onepump

RIDER STYLE:
Slingshot's NEW 2007 LINK is the only hybrid style kite that offers incredible stability, range and instantaneous de-power without sacrificing any of the top-end response and feel characteristics more advanced freeriders demand. The NEW LINK is the one kite that meets the needs of all kiteboarders who demand range, de-power, safety, comfort
and a choice of platforms 4 or 5 line.
For more information on the LINK log onto www.sskitebarding.com