Home |

THE THRILL OF MOUNTAINBOARDING: THE EXPLOSIVE YEAR-ROUND SPORT FOR SNOWBOARDING DEVOTEES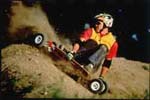 Mountainboarding is an adrenaline sport that combines the best aspects of snowboarding, surfing and skateboarding. It offers the thrill of snowboarding on a variety of terrains during the off-season; long after the snow has melted. With mountainboards, outdoor enthusiasts are no longer restricted by weather patterns, limited types of terrain, or icy or windy conditions.
The rapid growth of boarding sports in the U.S., from snowboarding to wakeboarding, yields 20 million eager sideways-sliding consumers, all yearning for a sport that is yearlong in nature, limitless in terrain and places to ride.
Mountainboards are fitted with bindings and come in a
variety of models, depending on the rider's skill level and riding preference. The key difference from a snowboard is in the tires and suspension. Mountainboards come with a comprehensive selection of off-road tires and high performance suspension for virtually any kind of terrain, ranging from paved streets, BMX Tracks, dirt roads, grassy ski slopes and even rocky terrain.

MBS mountainboards can be equipped with a reverse V brake, the company's proprietary technology. This is especially helpful for beginners who are learning how to ride as well as advanced riders who prefer more extreme terrain such as steep single track.
Mountainboarding has been growing steadily and has quickly become accepted as a viable alternative sport. In 2000, mountainboarding was highlighted during the Summer Gravity Games and became a popular activity at major ski resorts in the summer. Over 100,000 kids mountainboarded at camps last summer. Select members of the U.S. Olympic Snowboarding Team have trained with mountainboards during the off-season since 1996.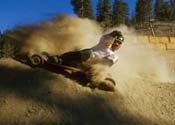 Places to Ride MBS Mountainboards >>

Glossary of MBS Terms >>

For a large selection of boards check out MountainBoardShop.com>>
OTHER @ www.boarding.comhttp://www.boarding.com