Home |

SAND MASTER PARK
by Dr.Dune
Sandboard.com

Let's step into a realm where all things that do not exist are born. It's called 'Imagination'. The place where ideas and possibilities are formed into an image in our very mind. I invite you to exercise your imagination a bit and visualize 40 acres of clean fine grained sand dunes nestled in the heart of Oregon coast rain forest in the charming little city of Florence.

Now imagine that you could take that sand and shape it into castles like a kid at the beach and layer it with soft dry sand then sand board all over it? Imagine having the ability to shape cliffs, giant bowls, chutes, towers and what ever your imagination can think of on a grand scale. What could you make with 40 acres of dunes? Answer... Sand Master Park. This is a dream come true for sandboarders around the globe, a showcase to present to the world as hard proof that sandboarding has arrived.

Deacon Matthews had the desire to build an amusement park for most of his life. Having a real love for kids as well as a lot of sand, Deacon and wife Hilary started to imagine the possibilities of opening their dunes for the public's enjoyment. There were many ways the dunes could be used and anything seemed possible. Deacon and Hilary began to do the homework and found one activity that was too appealing to pass up. Sandboarding.

Last spring Sandboard Magazine journeyed to Oregon with the Venomous team to scout the coastal dunes. The dunes that were being ridden up this point were public and could not be sculpted. Oregon's dunes were more technical with more variations than the giant dunes of the desert. It was the closest thing to a sandboard park in the natural but it wasn't the vision of a sandboarders imagination.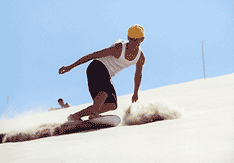 Next >> OTHER @ www.boarding.comhttp://www.boarding.com
The Boarding Media Network