Boarding.com :: Loaded carving systems

Loaded Boards Technical Highlights

The crew at Loaded boards sent us over a few to ride. They are stable, very fast, carve good, have an excellent flex pattern (even for some of the Big boys in the office) and provided us tons of fun and a half day out of the office. A great all around board to have. They are a great way to get somewhere in a hurry. Below is some info on the Loaded carving systems. We recommend adding one to the quiver, and on the hills it proved to be a decent cross trainer for snowboarding...
How it Rides: Lively feel, tight turns, stable, enhancedcontrol on steeper hills, great for pumping, light and strong.
Designed for: downhill performance carving, but performs exceedingly well for transportation and flatland cruising.
Wheel Base: trucks are pushed out to the extremes of the board for the longest wheel base, and enabling greater flex performance and increasing the stability of the ride. (also enables wheels to absorb impact of runaway board hitting the curb)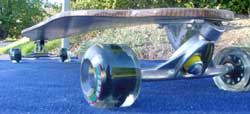 Flex: a lively, energy retaining flex that allows the rider greater control, intuitively using their weight with the flex of the deck as an active steering mechanism. Increases energy and speed generated through carving and pumping. (springs rider up and down while "pedaling")
Philosophy: This board is engineered around the Randal trucks so that the deck and trucks function together as a single carving system. Its designed for fluid, snowboard inspired carving and transitions for enhanced control on steeper hills and a more lively, dynamic ride.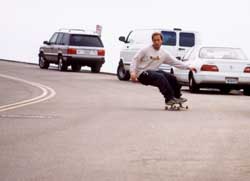 TRUCKS
Randal R-2 180mm, widely regarded as best longboard truck. Known for their legendary combination of stability at high speed (less speed wobble) yet able to execute smooth, buttery carves and a super tight turning radius. (greater truck width adds stability)
WHEELS
Clear Kryptonic Classic K, 70mm, Durometer: 78A,
The most time tested longboard wheel, grippy as hell. (size and softness rolls over little pebbles better than harder and smaller wheels)

DECK CONSTRUCTION
Vertically Laminated Oak with Tri-axle Fiberglass top and bottom sheets (used for snowboard cores) makes the deck very light and strong with superior flex characteristics. (the vertically laminated deck uses over 80 layers of oak)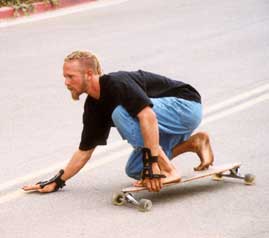 DECK SHAPE
Sidecuts allow for torsional looseness (so one foot can hold a slightly different carving angle from another) for fluid transitions, a broader range of turn shapes, and overall tighter turn radius capability.
Rounded Stance Pads give the foot multi-directional leverage which gives the rider enhanced control and deck manipulation ability.
Tapered Edges no chance of wheel bite, torsional looseness, ability to see trucks as you are riding for better feeback and control.
Camber creates potential energy that's tapped through weight loading and unloading. and gives better ride feedback.

For more pics and info on where to buy check out loadedboards.com >>

SKATE @ www.boarding.comhttp://www.boarding.com