Billabong
is proud to announce that they are bringing the first ever Damn Am series to Canada August 8th and 9th, 2008. The event will take place at the Bonsor Skatepark just outside of downtown Vancouver. and will consist of the Osiris Bowl Jam on Friday afternoon, with the street contest taking place Aug. 9th in the main park. Sunday will be held as a weather day, in case of rain.
"Vancouver is such a great place to skate, and bringing an event like this to town is a great way to support the local and national skate scene" says Risto Scott, Marketing Director of Billabong Canada.
The event will take 80 skaters for the street contest, with 20 skaters competing in the bowl jam. Registration of the event will be done through advance registration only, and all registration must be done exclusively by industry team managers. Please submit all registrations to Rob Meronek at
rob@damnam.com
.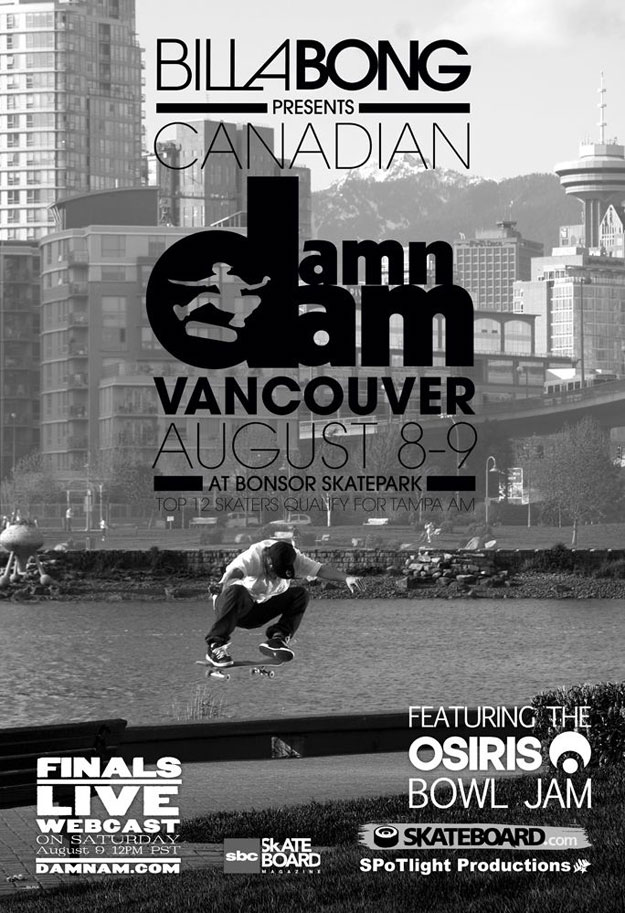 "We're super stoked to bring the Damn Am to Canada, especially to Vancouver, says Contest Director Brian Schaefer. "Vancouver has such a great history of skateboarding and it will be great to see first hand the new crew of rippers that will be joining us for the Tampa Am in December. Canadians are great hosts, so we look forward to the good ole Canadian hospitality also."
The
Damn Am
skate series is the leading global amateur skate series with events in Minneapolis, Costa Mesa, Amsterdam and now Canada, with all events leading to the Tampa Am in December 2008, which is the most recognized amateur skate event in the world.
"Billabong's amped to be bringing Damn Am to Canada. After the success of all the regional Damn Am's, particularly Billabong's Minneapolis Damn Am last year, it only makes sense to keep the momentum going and go north of the border" comments Rodney Johnson, Skate Team Manager at Billabong-USA. "There is so much skate talent in Canada, and now there is another opportunity for young Ams to get a start at Tampa Am."
Coverage of the Damn Am appears in all major industry publications and websites. The events are run by
SPoTlight Productions
, the same staff that has organized and run Tampa Am and Tampa Pro for the last 14 years, including Brian Schaefer, Ryan Clements, and Rob Meronek.