Volcom Damn Am 2007 STREET FINALS Results
Damn Am 2007 Volcom Street Finals • Top 13 Promo Video. Click on the Skaters Profile Links below to watch each skaters, uncut, street final, runs.

The Damn Am 2007 skate contest went down in the Parking lot of Volcom in Costa Mesa,CA October 26-28th.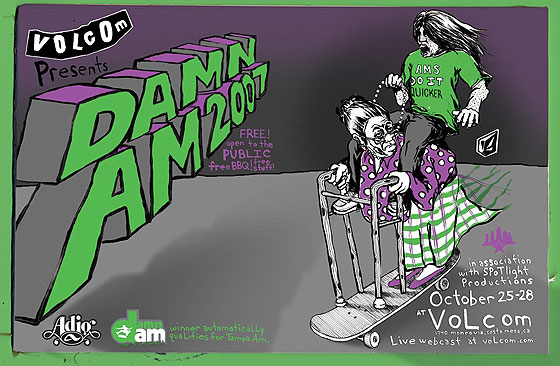 This was the 7th running of the prestigious amateur competition which draws the top am skaters from the North America, Europe and South America. This year was not to be outdone. The skater talent pool was deep and some great skaters didn't make the cut.
Ryan Sheckler was in attendance supporting Shane Sheckler with his entire family and the MTV Crew. Look for the Damn Am 2007 in upcoming episodes of "Life of Ryan".
Damn Am 2007 Street Finals Results and Skater Profiles:
1 Scott DeCenzo
2 Chazz Ortiz
3 Ryan Decenzo
4 Louie Lopez
5 Luan De Oliveira
6 Donovan Piscopo
7 Kechaud Johnson
8 Axel Cruysberghs
9 Evan Smith
10 Felipe Gustavo
11 Timmy Knuth
12 Kyle Walker
13 Luis Perez