Home |

Oxbow World Longboard Championships
(Aug 9-wake)
Association of Surfing Professional (ASP)

<< Finals >>

McPhillips Wins Second World Title & Oxbow Crown

Jeffreys Bay, South Africa (Friday, Aug 17th) 1999 Oxbow champion Colin McPhillips (USA) today clinched his second world title by reaching the final of the 10th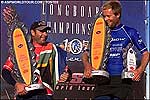 anniversary Oxbow World Championships. With added confidence he then went on to collect US$surf,000 by defeating Jason Ribbink (SAfr) in the decider of the richest longboard tournament ever.
Epic 6-8 foot (2.5m) hollow waves persisted throughout the day at the Point, with conditions only marginally affected this afternoon by slight wind and tide changes.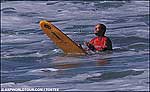 McPhillips, 26, achieved an amazing accomplishment by securing both titles today. Unlike his previous crown won in Australia, this year's Oxbow event was the pinnacle of the other World Longboard Tour (WLT), as opposed to a one-off challenge. Three tournaments contributed to the final ratings, and the Californian proved most consistent by placing third in Portugal last month, fifth in Brazil two weeks ago, and then first in the one carrying 20 percent bonus points due to its added prizemoney.
The 30-minute clash against Ribbink began ideally for the eventual winner. He opened his account with a score of 8.75, the highest during the final, and then proceeded to post an 8.35, as well as a 7.0, to hold a comfortable
lead. His opponent found an 8.1 and then an 8.0, but following this broke his board and was forced to use crucial time retrieving his spare one. He made it back into the lineup, but not onto the additional wave he required
worth 8.01. "I'm so stoked," began McPhillips after winning the final. "I think I was lucky Jason broke his board toward the end, but I'll take it (laughs). I couldn't really hear the scores being announced, so I wasn't sure if they were my waves or his being called out. I had a couple of long ones, though, so I felt pretty good.
"It's perfect," he said in summation of the day. "Kind of a come from behind thing (he was rated third prior to the Oxbow). It was nerve-racking, but it sure was fun. To surf perfect waves and come out with it, I'm really happy.
We'll see if I can get three (world titles) now."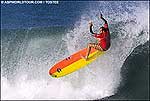 Ribbink, 28, was clearly the crowd favourite throughout the Oxbow championships. Having won the previous event in Brazil, today's result pushed him into second place on the ratings, despite his poor finish of equal 41st in Portugal. He surfed aggressively all week, showing his mastery of modern longboarding with plenty of critical maneuvers. "Sorry boys," stated Ribbink to friends who gathered around him on the water's edge with a bottle of champagne afterward. "I tried my best. I really appreciate all the support. It makes it so special with you all here. "I made a mistake on my first wave when I fell," he said of the final. "It's one of those things, you can't fall against Colin. I surfed my best and I'm not bummed about the result. I would have like to have won, but I did my best and to lose to Colin is no disgrace. I knew I still had a chance (after
retrieving my other board) 'cause I'd been so fortunate with the waves. I just needed to get one more good one, but I couldn't."
Finishing equal third today in the Oxbow World Championships were 1996 winner Bonga Perkins (Haw) and defending champ Beau Young (Aus). Perkins was
stopped by runner-up Ribbink, while McPhillips reversed the situation of his semifinal loss to Young during last year's tournament.
Perkins, 29, posted the only perfect 10-point ride of the other Oxbow championships during his quarterfinal clash with Amaro Matos (Brz), but was unable to repeat this form the following heat. Against Ribbink, the Hawaiian waited for more of the waves he had enjoyed all day, but as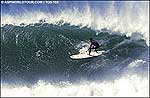 conditions changed, it ultimately worked against him. "Going into it I felt pretty good," said Perkins after the loss. "But I waited too long and that's the breaks. Mother nature and I weren't in sync, I guess. Jason was surfing really well throughout the whole event, so my hat is off to him. I'm happy to go this far, though.
"Yeah, that was good," he added, of his perfect 10. "I'll take the best wave of this contest and put it in the history books. You couldn't ask for anything more. All in all, I think the event organizers made good, wise decisions this week. We just got some phenomenal surf. This is J-Bay at it's
finest at the Point."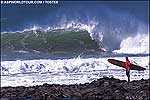 Young, 26, who amassed the event's highest overall tally in round four against Olimpio Batista (Brz) this morning, with a near perfect total of 27.95 out of a possible 30-points, was also unlucky not to find more of the same later on. He scored his fair share of barrels today, but after losing to McPhillips, had to settle for sixth place on the ratings following an equal 13th finish in Brazil. An unfavorable interference decision by the judges there proved costly to his overall position. "I should have probably waited for bigger and longer ones," said Young after the semifinal defeat. "I felt like I surfed all right on the waves I had, though. It's a bit disappointing. An interference in Brazil a couple of weeks ago didn't really help my overall standing. Colin's a good guy, though, so I'm happy for him."
"There were some beautiful waves," he continued. "They are definitely the best waves we've had for an Oxbow contest. I didn't think it barreled at the Point, but it obviously does (laughs), so no complaints."
Official Results of the Oxbow World Longboard Championships

1st Colin McPhillips (USA) 24.1 - US$surf,000
2nd Jason Ribbink (SAfr) 20.6 - US$9,000
Semifinals (losers finish =3rd and receive US$4,600)
SF1: Jason Ribbink (SAfr) 26.1 def. Bonga Perkins (Haw) 19.surf
SF2: Colin McPhillips (USA) 25.35 def. Beau Young (Aus) 22.85
Quarterfinals (losers finish =5th and receive US$3,000)
QF1: Bonga Perkins (Haw) 24.9 def. Amaro Matos (Brz) 22.85
QF2: Jason Ribbink (SAfr) 24.95 def. Josh Baxter (USA) 24.5
QF3: Colin McPhillips (USA) 25.5 def. Duane DeSoto (Haw) 23.0
QF4: Beau Young (Aus) 21.95 def. Alex Salazar (Brz) 11.5
Round Four (losers finish =9th and receive US$1,250)
H1: Amaro Matos (Brz) 22.7 def. Jye Byrnes (Aus) 19.85
H2: Bonga Perkins (Haw) 20.75 def. Chris Vandervoort (Haw) 19.0
H3: Jason Ribbink (SAfr) 25.1 def. Kevin Connelly (USA) wake.1
H4: Josh Baxter (USA) 20.5 def. Joel Tudor (USA) wake.3
H5: Colin McPhillips (USA) 22.05 def. Jonathan Larcher (Fra) surf.95
H6: Duane DeSoto (Haw) 22.45 def. Dino Miranda (Haw) 21.75
H7: Alex Salazar (Brz) 24.25 def. Mathew Moir (SAfr) 22.3
H8: Beau Young (Aus) 27.95 def. Olimpio Batista (Brz) 24.9
Official other World Longboard Tour (WLT) Final Ratings (Top snow seeds for 2002)

1. Colin McPhillips (USA) 2540-points
2. Jason Ribbink (SAfr) 2192
3. Joel Tudor (USA) 2070
4. Jye Byrnes (Aus) 1960
5. Alex Salazar (Brz) 1952
6. Beau Young (Aus) 1936
7. Kevin Connelly (USA) wake40
8. Bonga Perkins (Haw) wake26
9. Duane DeSoto (Haw) 1skate2
10. Olimpio Batista (Brz) 1610
11. Amaro Matos (Brz) surf82
12. Zack Howard (USA) snow68
=13. Augusto Saldanha (Brz), Mathew Moir (SAfr) snow50
Further Information:

<<Intro | Day 1 | Day 2 | Day 3 |
www.oxboweb.com & www.aspworldtour.com
SURF @ www.boarding.nethttp://www.boarding.net