Home |

other-04-05

Roxy Fiji Surf Jam FINALS!!!
Abubo Defeats Redman To Win Inaugural Roxy Fiji Surf Jam

Association of Surfing Professionals (ASP)
other World Championship Tour (WCT)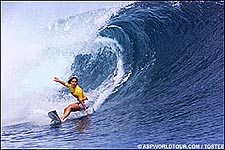 Tavarua Island, Fiji (Thursday, May 3, other). World number two Megan Abubo (Haw) today defeated world number four Melanie Redman (Aus) to win the inaugural Roxy Fiji Surf Jam. By taking out the first women's World Championship Tour (WCT) event of other, she also secured the current ratings lead and her biggest prize purse of US$10,000.
Perfect 4-5 foot (1.5m) conditions greeted competitors all day, allowing the tournament to run right through from the third round. Unfortunately a slight onshore wind did blow into the lineup just prior to the final, making the hollow lefthanders trickier, but this did little to shadow the event's climax.
Abubo, 23, opened strongly with two high scoring rides, and then managed to hold down a commanding lead until the 35-minute final was over. Having watched defending three-time world champion Layne Beachley (Aus) eliminated in the third round this morning, and then by disposing of world number three Serena Brooke (Aus) in their semifinal, the Hawaiian was quietly confident.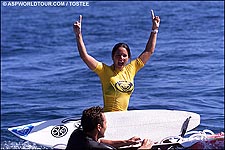 "I can't even explain it," said a beaming Abubo on the media boat after the final. "Coming to Tavarua I was just so excited to compete in this event. Surfing one of the best waves in the world, even though we weren't blessed with swell... I'm so excited cause for me it was like one of the best days at Rockies (one of her local surf spots in Hawaii). I couldn't have asked for anything more. I was so happy just to make the final. It's such a good way to start the year. We don't have that many events, and last year I had a fast start also, so I'm really excited to be on top.
"It was a little glassier at the start of our heat and I knew if I got a
good wave and whacked it as many times as I could I'd get a decent score," she explained of her tactics. "I started off pretty well and had two solid scoring waves. I knew I just needed a third, so when I got that last 4.75 I knew she'd need a lot more, as she didn't catch many at the start.
"I had to spend all last year going head-to-head with Layne," she added, referring to the world champ. "That was a real confidence boaster for me just because she's so experienced and such a good competitor. There are only five events for the year, and it'd be tough to have to start down there (in 9th). Someone could win the next four events; you never know what can happen. It's a solid year. We have great waves and I wouldn't count anyone out until the last event of the year."
Redman, 25, surfed brilliantly during her earlier rounds, but was unable to find the same winning form in the final. The current World Qualifying Series (WQS) leader was anxious to top both ratings simultaneously, but had to settle for a second. Needing an 8.11, she lost her surfboard within the last five minutes, and by then accepting a ride from the water patrol on jets skis back out to her replacement board, was not permitted to catch another scoring ride. She did surf one more, but the judges awarded her no points.
"I didn't have a good start," admitted Redman afterward. "I was just waiting around for a really good one so I could catch up, or hopefully overtake her, but there just wasn't any waves. I didn't know what to do, so I was a bit frustrated. You have to be pretty precise with your surfing here, and I haven't really had all that much practice in these kinds of waves.
"I would have been stoked to be leading the WCT and WQS ratings," she acknowledged. "I'm a bit disappointed to make it to the final and finish second, but that's OK, hopefully I'll do well in Tahiti (next WCT event) and end up first."
Finishing equal third in the Roxy Fiji Surf Jam were Brooke and Jacqueline Silva (Brz). Brooke, 25, picked up where she left off last year to start the other season in third. The Australian had more prior experience at Cloudbreak than any other competitor, but this alone wasn't enough to bridge the gap created by Abubo.
Roxy Jam FINALS continued>> SURF @ www.boarding.nethttp://www.boarding.net