Home |

BILLABONG ODYSSEY SURFERS CHALLENGE CORTES BANK'S BIG OPEN OCEAN WAVES
photos by Les Walker
SAN DIEGO (October 31) -- The big wave season opened in earnest yesterday along the West Coast with a Billabong Odyssey expedition to the Cortes Bank, a legendary open-ocean reef 105 miles west of San Diego.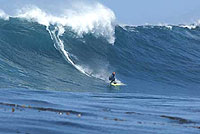 An all-star cast of big wave riders was on hand for the day-long tow-surfing session, including Cortes veterans Mike Parsons, Brad Gerlach and Ken "Skindog" Collins along with first-timers Shane Dorian, Noah Johnson and Josh
Loya. Also joining the session was 6-time World Champion Kelly Slater and Chris Malloy, who reached the spot after their own harrowing all-night voyage.
While much of the California coast saw breakers in the six- to eight-foot range, the faces of the bigger waves at Cortes were well over 35 feet from trough to crest.
It was only the second time in history the break had been ridden at significant size. The right combination of large swell and calm surface conditions is a rare commodity so far out to sea, only occurring a handful of times a year -- or not at all, as was the case last winter. The daunting task of merely reaching the remote seamount has lead to its near-mythical status in the surfing world.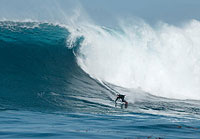 Following the formation of an intense low pressure system north of Hawaii last weekend, Sean Collins of Surfline accurately forecast Wednesday's arrival of a solid long-period groundswell to coincide with light winds at
the Cortes reef. Billabong Odyssey Project Director Bill Sharp put the logistical gears in motion, coordinating the launch of the Billabong Odyssey's 57-foot mothership out of San Diego Harbor, carefully outfitted to carry 4 jet skis on deck.
"The Billabong Odyssey is meant to be surfing's Delta Force -- ready to deploy anywhere in the world at a moment's notice," said Sharp. "Getting surfers and photographers from all over the world along with jet skis,
surfboards and camera equipment loaded on time isn't simple, but this time it went like clockwork."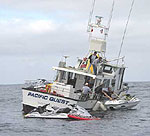 Following GPS coordinates in the dark after departing from separate Southern California harbors, a three-boat flotilla met up south of Cortes in the predawn hours and slowly crept up on the notorious hazard to navigation, watching waves break on the shipboard radar screens. Over the course of the day, a roaring low-level fly-over by an F-wake and the effects of a passing aircraft carrier's massive wake all added to the naval flavor of the adventure.
"It was an incredible trip," said Shane Dorian, who caught a red-eye from Hawaii in time to join the fray. "After seeing the photos of the last mission to Cortes [January 19, other], I've been dying to get on a Billabong Odyssey expedition out there. It's a really perfect reef that magnifies the swell in an amazing way. This was a great chance to get a feel for the spot...I can't wait to get it on a gigantic swell."
The presence of eight world-class surfers at the break clearly helped to raise performances to a level never seen at such an isolated surf zone.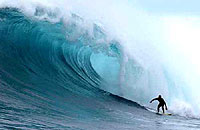 "Getting to surf Cortes Bank with guys like Shane Dorian, Noah Johnson and Kelly Slater was insane," said Ken 'Skindog' Collins of Santa Cruz, CA. "I was blown away how much everyone went for it. And everyone worked together really well as a team for the intense moments like getting the skis on and off the boat. I'll go with those guys any time...it was like a really gnarly Boy Scout camping trip."
The Billabong Odyssey is a three-year project to find and ride the largest waves in the world. In the last year, the Billabong Odyssey has ventured to exotic breaks in Australia, Hawaii, Tahiti, Spain, France, Mexico, Washington State and Canada. A feature film documentary on the adventures to date will hit theaters in Spring, 2003.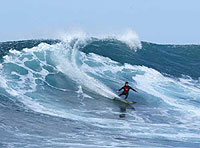 "Going surfing at a place like Cortes Bank is serious business and the Billabong Odyssey has been working to develop the safety aspects of big wave riding," said Sharp. "As a group, we spent time planning rescue protocols and
discussions on how to deal with worst case scenarios. Emergency specialist Dr. David Oates was on board with a defibrillator, oxygen and all the medical equipment we'd require if there was a problem. None of this turned out to
be needed, but being prepared out there is a necessity, not a luxury."
A full array of photos and video from the Cortes Bank expedition can be seen at www.BillabongOdyssey.com.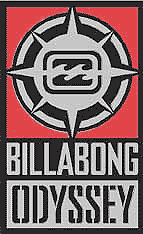 SURF @ www.boarding.nethttp://www.boarding.net