Home |

By Press Release

Honolua Surf Co. Hosts Maui International
PaddleBOARD CHAMPIONSHIPS
Strong Winds and Swell Has Attracted the World's Top Paddlers
For What Could Potentially Be the Ultimate Paddleboard Race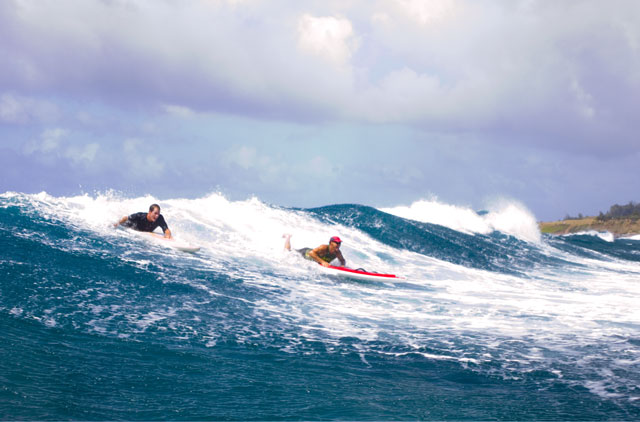 July 12, 2006 – Irvine, CA – On Sunday, July 23, 2006, Honolua Surf Company is proud to host the Inaugural Maui International Paddleboard Championships – a nine mile race starting at Maliko Gulch following the North Shore coastline and finishing on the beach in Kahului Harbor. This is a true international event with top competitors hailing from across the U.S., Hawaii, Japan, New Zealand, Australia and elsewhere.
This race is unlike any other ever held and should boast extreme wind and swell conditions creating the ultimate paddleboard race course. And, with prize money adding to the motivation, the race is attracting the world's fastest paddleboarder's including reigning men's world champion, Australian Jamie Mitchell, women's champion Kanesa Duncan from Oahu and Catalina Stock Champion, Brian Syzmanski. Eager, ready and waiting to compete with the international field are renowned Maui Paddleboarders Kiva Rivers and John Gangini [pictured on actual course]. Also included is Buzzy Kerbox who was the first to paddle the English Channel with Laird Hamilton.
Due to the overwhelming support from the Maui Business community, the race is offering a $10,000 prize purse to be divided amongst the top three finishers in several categories. There will also be several divisions for the "Beachboy-style" or stand-up paddling where the paddlers stand on a big surfboard with a long canoe paddle.
In the tradition of old Hawaii, a late afternoon awards luau will follow the race, complete with live entertainment, awards ceremony, dinner and raffle. For an additional charge family and friends who would like to join the afternoon's event are welcome to do so.
For more information, visit www.mauipaddleboard.com