Home |

Free As A Dog (Check out a clip Here.)
Free as a Dog— A True Dog's Tale is the new Billabong film staring Joel "Parko" Parkinson and his faithful hound, Trey. As seen through the eyes of the ever-loyal Trey, who is also the film's narrator, the remarkable surfing talent of Joel Parkinson is showcased like never before.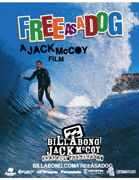 The film starts on Joel's home turf of Coolangatta, the Queensland Australian surf town with a glorious surfing past. It's also the home of what is affectionately known as "The Superbank", a man-made perfect stretch of beach that creates perfect, long, peeling waves. Obviously Parko is one of the top dogs here and we get a really good look at his incredible surfing
at this amazing spot.

Parko and Trey then set off on a mission to help get a couple of groms (played by James "Woody" Wood and Ellis Erickson) back in line after they've gone off the rails in classic teenage puppy-love mode, fantasising about a beautiful dark-haired beauty (played by Ashley Cheadle).

While Parko and Trey try to sort out these two infatuated young lads, we go surfing with them to several great spots. Parko shines like only he can on these outstanding breaks, a few of which have never been filmed before.

Parko winds up the movie by telling the lads that the best way to sort out their problems is to confront the girl, confess their so-called loves for her, then get their minds back onto their surfing. As a proud new husband and father—and one of the world's top pro surfers—Parko knows only too well that, sooner or later, every dog has his day.

Free as a Dog—A True Dog's Tale is the 24th film in a long line of classic surfing films by Jack McCoy. After the World Premiere on January 2nd, 2006, at Sydney's State Theatre, Free as a Dog will travel internationally with the Billabong Jack McCoy Surf Film Festival until August 2006. For BIG SCREEN tour dates, go to the tour section of the mini site. Free as a Dog will be released on DVD in October 2006.
The Boarding Media Network