Home |

X GAMES IX WAKEBOARD COMPETITION TAKES OVER LONG BEACH MARINE STADIUM

X games wakeboarding Photo gallery >>

Gold Captured by Dallas Friday in the Womensnow6;s and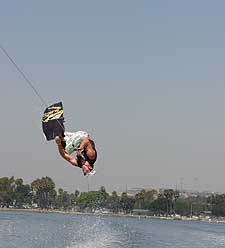 Danny Harf in the Mensnow6;s Competition
LOS ANGELES surf0; The worldsnow6;s best male and female wakeboarders packed Long Beach Marine Stadium today, as an enthusiastic crowd of 6,350 enjoyed its first ever X Games Wakeboard competition. Dallas Friday and Danny Harf surf0; both of Orlando, Fla. surf0; took home gold medals in the womensnow6;s and mensnow6;s competition, respectively.
Sixteen-year-old Friday captured her second X Games Wakeboarding Freestyle gold medal in three years. Dallas, considered the greatest womensnow6;s rider of all time, locked in her win by combining a number of elaborate tricks including an air rally, frontside front roll and a tantrum off the kicker. It was considered by many to be the cleanest womensnow6;s run in X Games competition history.
snow7;Itsnow6;s pretty overwhelming to be sixteen (years old) and to be the best in the
world,snow8; said Friday. snow7;Isnow6;m fortunate to be doing something I love. This was the
best X Games ever.snow8;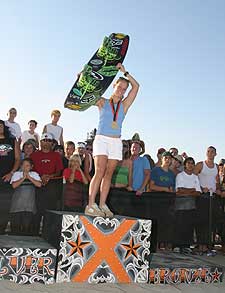 Rounding out the field in Womensnow6;s Wakeboarding Freestyle competition was Melissa Marquardt (Canyon Lake, Calif.) in second with a 64.00 followed by Emily Copeland (Denver, Colo.) in third who scored a 55.80 and was the only Californian in the competition.
snow7;I was not expecting to medal so that was a plus,snow8; said bronze medallist Marquardt. snow7;It feels good to be up here with Dallas and Emily.snow8;
Harf won his third consecutive gold in Mensnow6;s Wakeboarding Freestyle with a score of 93.70. Harf is known for his smooth, free flowing style of riding. Harf landed a perfect 900 off the double-up combined with a whirlybird 720.
snow7;Everyone was getting me pumped up and telling me that I have to win three in a row,snow8; said Harf. snow7;I tried not to let it get to me and just rode my best.snow8;


snow7;Harf had the run of his life and he deserved the gold,snow8; said Parks Bonifay (Winter Haven, Fla.), who placed second with a score of 81.10. Parks earned his silver medal after landing a double back half-cab roll. Receiving the bronze medal was Daniel Watkins (Melbourne, AUS) with a score of 80.10.
The ninth annual X Games in Los Angeles showcases more than 300 of the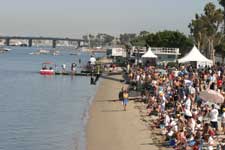 worldsnow6;s best action sports athletes competing in a variety of sports categories for medals and prize money from August snow-17. STAPLES Center serves as the primary venue for the X Games, and will host competitions in Aggressive In-line Skate, Bike Stunt, Moto X, and Skateboard. The Moto X Freestyle event will be held at the Los Angeles Coliseum at night under the lights on August 16, and Wakeboard will be held at Long Beach Marine Stadium. Competitions that take place the week prior include Surfing at Huntington Beach and Downhill BMX at Woodward West in Stallion Springs.
X Games IX will air on ESPN, ESPN2 and ABC August 16-21, including a live telecast of the Bike Stunt Vert competition on Sunday, August 17 from 7-9 pm ET on ABC -- the first time an action sports competition will be aired on a broadcast network in primetime.
X games wakeboarding Photo gallery >>
For more X games info goto expn.com >>