Home |

By Press Release — August 10, 2006
RECORD-BREAKING RISK-TAKERS RIDE INTO THROWDOWN
Coors Light Silver Summer Throwdown just got a whole lot hotter — and it's all thanks to a couple fiery motocross freestylers making a surprise appearance.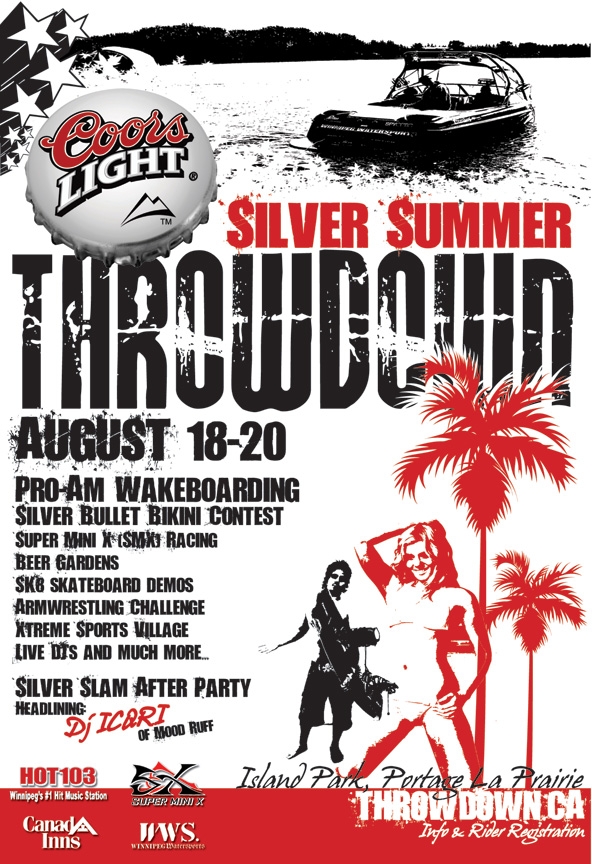 Organizers of Manitoba's premier wakeboarding and extreme sports just confirmed Jason Thorne and Seth Enslow of the renowned race and jump troop Metal Mulisha will be attending Throwdown's Super Mini-X races and demos in Portage la Prairie from Aug. wake-20.
Enslow, a New York product, is best known as the man who broke Evel and Robbie Knievel's long-distance jump records. Thorne is an Ontario-born provincial, national and international champ with a laundry list of television and extreme film credits to his name. And both are pumped to be hitting one of the sickest events of the summer.
"We're going to be out there at Throwdown showing our presence, promoting the sport and backing up the other freestylers. It sounds like it's going to be a pretty wicked time," said Thorne, who along with Enslow will be riding the SMX bikes in a trio of races and just spending time rubbing shoulders with spectators.
"I remember looking up to riders at events like this when I was young, so we make sure to bring lots of posters and stuff. Those were the good days and being around events like that make you wish you were a kid again."
The Throwdown SMX experience kicks off with a beginner clinic and practice session on Friday, Aug. wake and then moves on to the full-blown race day raucous on Saturday. Races are broken into wake categories, including a "Dash for Cash," which has a guaranteed $250 winner payout, and a three-man relay, which includes an opportunity to race with either Enslow or Thorne.
According to race organizer Justyn McCabe, the event is going to be huge — especially since the terrible twosome signed on.
"These guys are worldwide icons in freestyle racing and to have them there is just the biggest thing," he says. "There are some kids who wouldn't ever get to see them, and to see them in Portage is pretty cool."