Home |

By Press Release: August 13, 2006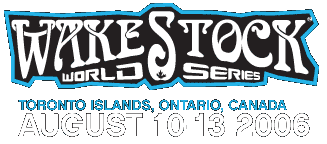 WAKESTOCK FINALS – BEST EVER!

Toronto Islands, Canada. The Wakestock World Series of Wakeboarding
wrapped up in spectacular fashion with one of the most amazing days of riding in wakeboarding history. "This was the highest level of riding I've ever witnessed at a WWA World Series", said WWA Director and Judge, Shannon Starling. "The Malibu Boats Expression Session Super Finals had the massive crowd on their feet cheering every move – it was electrifying!" That was just one of four pro events that concluded on Wakestock's action packed final day.
There was the Billabong Pro Railslide featuring the world's largest competition rail course with eight different rails totaling over 300 feet of sliding surface! There was the Oakley Launch Pool Invitational featuring the world's biggest and most progressive jib pool. There was the Billabong Pro Wakeskate featuring customized, wakeskate specific rails.
In the Malibu Boats Expression Session, the final four riders represented the strongest wakeboarding countries on the planet, with Wakestock defending champ Rusty Malinoski representing Canada; emerging superstar Philip Soven representing the USA; defending WWA World Series overall champ Daniel Watkins representing Australia; and one of the most talented allround riders in the world, Jeff Weatherall representing New Zealand. Malinoski knocked out Watkins and Soven eliminated Weatherall to set up a head to head super showdown. Soven went first and stomped a huge, clean run of some of most difficult wake tricks ever thrown, including a whirly 7, combined with smooth, tech rail slides. Malinoski knew he had to deliver his flawless best, but after two falls simply ran out of course to mount a serious challenge. Soven was crowned the new Wakestock Malibu Boats Expression Session champ winning his first coveted Wakestock WWA gold belt. Malinoski followed, with Weatherall claiming 3rd and Watkins 4th. Danny Harf, Brett Eisenhauer, Keith Lyman and Jack Blodget tied for 5th.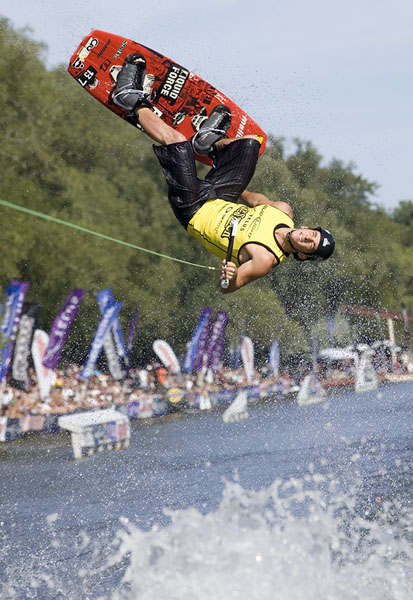 Philip Soven, Wakestock Malibu Boats Expression Session winner. Photo
Greg Weatherall.
In the Billabong Pro Railslide spectators were treated to an incredible tech
display of sliding by finalists Keith Lidberg, Kevin Henshaw, Keith Lyman, Aaron Rathy, Jeff Weatherall, Erik Ruck, Shawn Watson, and Derek Grassman. Four head to head heats later just four riders remained: Wakestock defending slider champ Lidberg, fellow American Lyman, and the two Canadians, Henshaw and Rathy. When the dust settled it was Lidberg's ultra smooth style nosing out Henshaw who delivered an inspiring challenge for rail supremacy, and in the process firmly established himself among the preeminent rail riders in the world.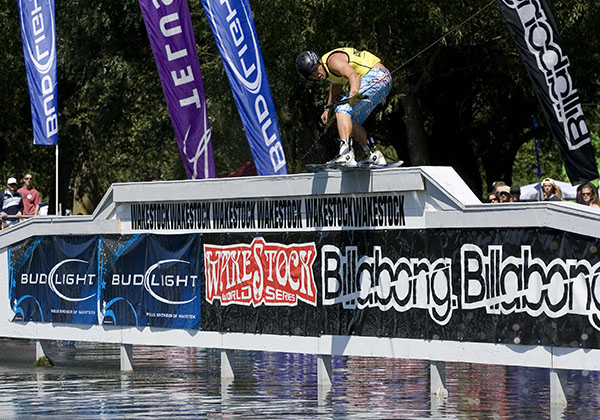 Keith Lidberg successfully defended his Billabong Pro Railslide title at
Wakestock 2006. Photo: Richard Roth.
The Oakley Launch Pool was the final event of the day drawing a big crowd to the triple tier of pools and big rails. Rathy had already taken the Oakley Pool Wakeskate Best trick the previous day, but was back challenging against Danny Harf, JD Webb, and Kyle Rattray for Wakeboard Best Trick. In the finals, Harf and Rathy went toe to toe hitting the wall transfer to the down rail, and raising the bar with each pull. With dozens of photographers and filmers crowding the upper pool and rail zone, the pressure was on, and in the end, it was Harf who stomped the sickest trick with the smoothest style – a cab 270 continuous wake0 to 90 out wall transfer to down rail. You'll be seeing film and photos from this session in all the magazines and videos guaranteed!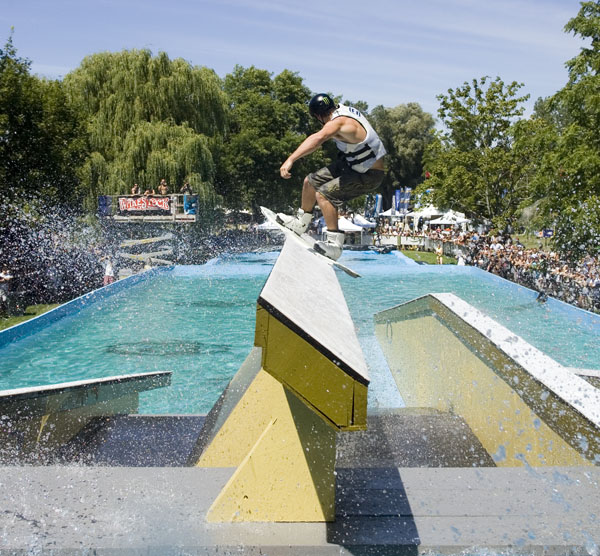 Danny Harf threw down the most sick trick in the Oakley Launch Pool.
Photo: Greg Weatherall.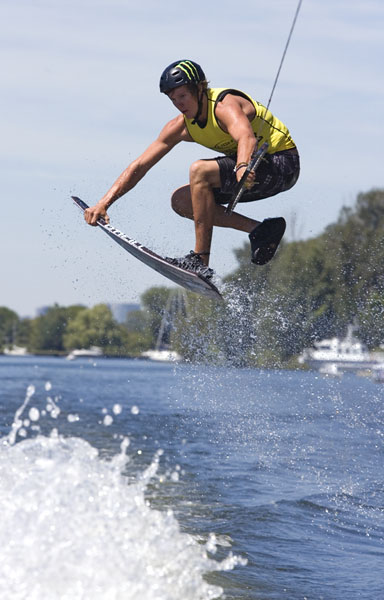 Defending Wakestock Wakeskate Champ, George Daniels finished tied for
5th in the Billabong Pro Wakeskate. Photo: Richard Roth.

Melissa Marquardt nosed out Sunni-Ann Ball in the Malibu Boats
Expression Session Pro Women. Photo: Richard Roth.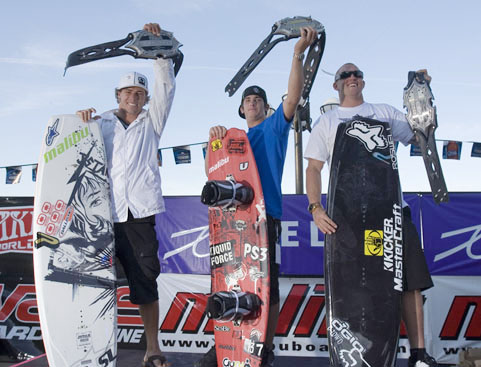 Wakestock Malibu Boats Expression Session winners (L to R) with their
coveted belts: Jeff Weatherall – 3rd; Philip Soven – 1st; Rusty Malinoski –
2nd.
What an ending to an insane four days of boarding, bands and bikinis! Somehow Wakestock raised the bar yet again, and the world's best wakeboarders responded. They rode hard, some partied harder, and everyone pushed the envelope – that's what Wakestock all about! Having fun and going balls out.
Over 35,000 spectators attended over the four days. Between the TELUS main stage, the iCoke stage and the SBC Skateboard Park indy stage over 40 bands performed. The Bud Light beer gardens were standing room only. The Skatepark was jammed every day. The Right Guard Xtreme Freestyle Moto-x Air Assault blew minds and the Canadian Action Sports Expo & Marketplace was where thousands of attendees blew money – on surf, skate, and street apparel, eyewear, footwear, and gear.
Next year will be Wakestock's 10th anniversary – don't miss it!
For more info visit www.wakestock.com.