Home |

Back to WakeBoarding on Boarding .com...

Dean Smith claims first Air Nautiques Australian Pro Tour of Wakeboarding Championship title in nail-biter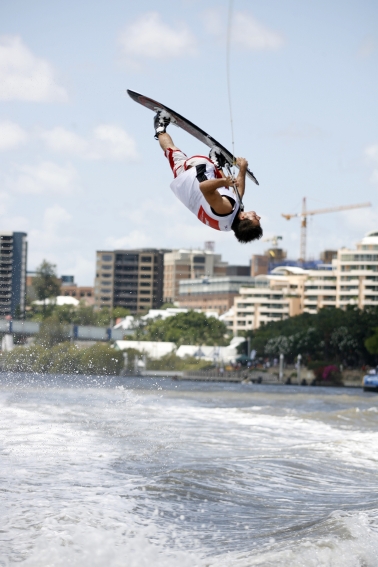 4 February 2007. Sydneysider Dean Smith has taken out his first Australian championship title in a nail biting cliff-hanger to wrap up the 2007 Air Nautiques Australian Pro Tour of Wakeboarding (APTW) held at South Bank in Brisbane today.
With the Tour leader Daniel Watkins eliminated in the first round of finals by Texan Gabe Lucas, his closest rivals, defending champ Jeff Weatherall and Sydneysider Dean Smith battled it out on the Brisbane River for a chance at the title.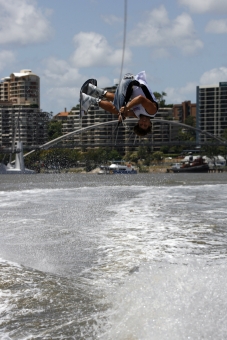 Smith rode his heart out in Brisbane to win the round and take his first Aussie Pro Tour crown on a total of 364 points. Watkins still managed a podium finish for the overall Championship coming in second place for the second year in a row on 359 points and defending champion Jeff Weatherall came in third on 349 points.
Gun rider Amber Wing held out tough competition from fellow Sydneysiders Hayley Smith and Caitlin Blaauw to win Round 4, and take out the overall Championship title with 387 points. Hayley Smith came in second on 373 and Canadian Sunni Anne Ball was third with 345 points.
With conditions less than ideal, gusty winds and a fast flowing tide, competition was fierce. The huge crowds that gathered on the river-banks were treated to some spectacular action as riders came to grips with the tricky conditions.
Overall 2007 APTW Championship Results
Men Women
1 Dean Smith (AUS) 1 Amber Wing (AUS)
2 Daniel Watkins (AUS) 2 Hayley Smith AUS)
3 Jeff Weatherall (NZ) 3 Sunni Anne Ball (CAN)

Round 4 Results
Men Women
1 Dean Smith (AUS) 1 Amber Wing (AUS)
2 Gabe Lucas (USA) 2 Hayley Smith AUS)
=3 Mitch Langfield (AUS) 3 Caitlin Blaauw (AUS)
=3 Jeff Weatherall (NZ) 4 Sunni Anne Ball (CAN)

For full results and event details visit: www.wakeboarding.net.au