Home / Skateboarding / Adidas Skateboard Clash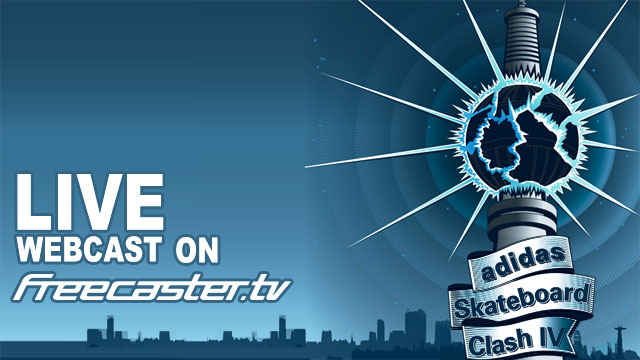 Adidas Skateboard Clash Live!
Skatehalle Berlin will host the fourth Adidas Skateboard Clash on May 31 and June 1. Freecaster.tv and it's partner Camcast will be on-site with a state of the art 4 camera HD production, a premiere for the event.
60 invited riders will hit the street course as well as 15 more who will have the chance to get through the open qualifying rounds. About 20 will also take part in the bowl competition. Only the finest from Europe will compete in the finals so be prepared for a sweet show.
Already confirmed we have current European bowl champion Juergen Horrwarth, Game of Skate world champion Alex Mizurov, last years winner of the Street- Event Philip Schuster, Bowl- Shredder Seb Daurel, Daniel Cardone, Ivan Rivado, Alain Goikotxea and Nicky Guerrero, Street- Ripper Lem Villemin and Jeremy Reinhard. Spectacular skateboarding at the highest level will be guaranteed!
The Live coverage will begin on Saturday May 31 at 17:30 with the Jürgen Horrwarths Bowl Jam by Fiat Freestyle Team and will continue on Sunday with the Street Finals at 15:30 (CET)
Adidas Skateboard Clash Live Webcast