Back to Skateboarding Lessons on Boarding.com<<
The Proper Technique Private Skateboard Instruction: Learn How To Skateboard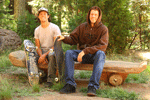 The Proper Technique is the skateboard industry's premier crew of skateboard instructors (Aaron Morgan and Mike Mandis) who are dedicated to working with kids and adults at all skill levels. Attending to each Students particular needs is our primary goal on and off the board until they achieve the techniques necessary for excellence in skateboarding.
Learn How to do Skateboard Tricks!
The "Getting Started" SkateBoarding Program
Stretches and Falling exercises
What Stance are you? (reg. or goofy)
Proper foot placement and toe/heel control
Stationary circles (front and backside…explanation)
Tic-Tacs
2 ways to get on and off your Skateboard
Proper Pushing
Roll-ins, and drop-ins
Pumping
Kick-turns frontside and backside
Intro to Ollies
The "Basic Tricks" Skateboarding Tricks Program
Stretches and Falling excercises
How to do Ollies (in depth explanation)
How to do Fakie Ollies
How to so Shuvits (frontside and backside)
180 ollies (front, and backside)
Half Cabs (fakie 180's both ways)
How to do Kickflips (in Depth)
Transition Tricks:
More advanced ways to pump
Rock to Fakie
Tail Stalls
Rock and Rolls (front and backside)
Ollies to Fakie
Front and backside ollies on transition
The "Moving On" Skateboarding Program
All flip tricks
Lines in the park
Transition Tricks
All Grind Tricks
Combo Tricks

The "Moving On" program is customized to the individual skater. The Skate Lessons Progress based on how fast they learn and how far they want to try and go will determine the length of the coarse. Based on our experiences from YMCA skatecamp, skaters in this program will be focused on learning more advanced flip tricks, and lines in the park.
The Proper Technique currently has skateboarding classes are at Krew's private wharehouse in Santa Ana and Whittier and La Habra community centers for details and contact information visit The Proper Technique Website.. or you can email Mike or Aaron @thepropertechnique.com